Fellowship
Hey friends, here is what's going on at Christ Lutheran Church on a regular basis. Come over and join us sometime.
Bicycle Clubs
The Christ Lutheran Bike Clubs meet on Tuesday evenings (inexperienced riders, shorter rides) and Thursday evenings (experienced riders, longer rides). They also plan longer trips during the fall or summer. Riders of all ages and abilities are welcome. Helmets are required.
Book Discussion Group
Participants pick up the "book of the month" at the Information Desk in the narthex on Sunday mornings, read it, and meet to discuss it in the coffee shop on the third Tuesday of the month at 7pm.
Diner's Club
Dinners at local restaurants are planned four times a year to offer the opportunity for people to get to know each other better over a good meal.
"Holy Grounds" Coffee Shop
The coffee shop is open Sunday mornings before and after services and staffed by the Spirited Women. It is a great place to meet and visit with friends while enjoying excellent coffee, other drinks and snacks.
Hospital Visitation/Caring Ministry
Lay ministers visit people who are ill in the hospital and home; follow-ups are made with get-well cards.
Model Railroad Club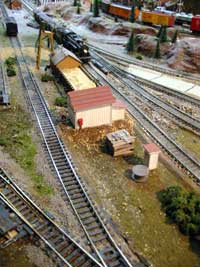 The CLC Model Railroad Club meets at the "Karis House" (892 Glencoe) every Wednesday evening at 7 p.m. Their planning, building, and fine-tuning of the operation of CLC's unique train layout have resulted in an awesome exhibition.
Small Groups
Christ Lutheran Church has a Small Group Ministry. The groups meet regularly for Bible study, fellowship and service.
Spirited Women
The Spirited Women's Bible Study group was founded to provide a safe and inviting environment in which women can gather to discuss personal issues, share thoughts and study the word of God. This multigenerational group meets in the Holy Grounds Coffee Shop on Mondays at 7 pm for bible study and at 9 am, the first Saturday of every month for special programs.
Tele-Care
Volunteers make phone calls to every CLC household several times a year to express care and invite feedback and prayer requests.